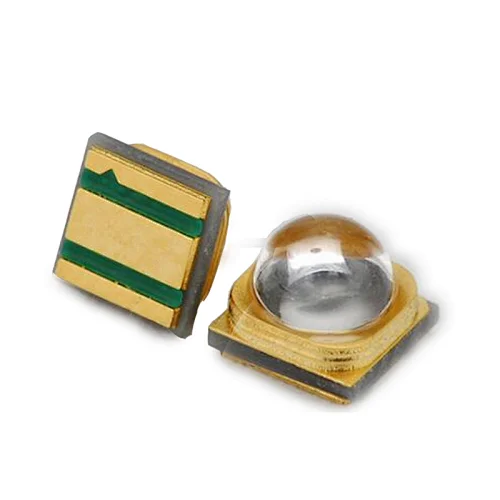 NEW Products 1W SMD UV 265nm 270NM 0.1W 280nm LED diode SMD 3535 UV LED
NEW Products 1W SMD UV 265nm 270NM 1W 280nm LED diode SMD 3535 UV LED
| | |
| --- | --- |
| LED Type | UV SMD LED |
| Size | 4.5 x 4.5mm |
| Emitting Color | UV |
| Forward voltage | 6V |
| Forward Current | 150mA |
| Wavelength | 265-275nm |
| Full Width at Half Maximum | 12nm |
| Color Rendering Index(Ra) | 70 |
| Power | 1W |
| Input Voltage(V) | 5v |
| Viewing Angle(°) | 120 |
| Radiant Flux | 8-10mW |
| Chip Material | AlGaInP |
| Brand Name | Cspring |
| Place of Origin | China |
| Lifespan (hours) | 50000 |
| Working Time (hours) | 50000 |
| Certification | RoHS |
| Operating Temperature(℃) | -20 - 80 |
| Storage Temperature(℃) | -20-60 |
| Warranty | 2years |
CAUTION:
LEDs emit very strong UV radiation.
Don't look directly into the LED light.
UV radiation can harm your eyes.
To prevent even inadequate exposure, wear protective eyewear.
If LEDs are embedded in devices, please indicate warning labels against the UV light LED used.
Keep out of reach of children.
Specification and dimensions are subject to change for improvement without notice.