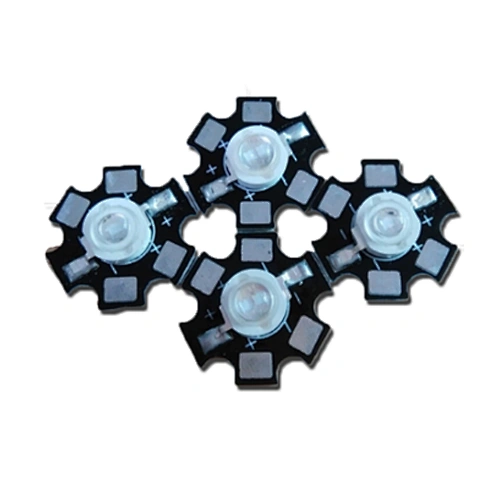 Epileds UV LED 3W High Power LED Beads LED Light Chip Manufacturing LED 3W 700mA 360-370nm UV LED Chip
Epileds UV LED 3W High Power LED Beads LED Light Chip Manufacturing LED 3W 700mA 360-370nm UV LED Chip
Epileds UV LED 3W High Power LED 

Features:
High quality,high brightness,low-attenuation.

Long lifespan:50000 hours.

Energy-saving and environmental protection.

Large light emitting angle.

2 years warranty.

Can be applied to a variety of harsh environments.

High consistency in light color,high cost-effective.

Input Voltage(V):3.0-3.6v

Warranty(Year):2

Type:High Power LED

Chip Material:AlGaInP

Emitting Color:uv

Luminous Intensity:3-4lm/w

Luminous Flux(lm):10-12lm

Power:1-3W, 1W 3W 5W 10W 20W ....100W

Viewing Angle(°):120

Color Rendering Index(Ra):70

Chip brand:Epileds chip

Voltage:3.4-3.8v

Current:350mA 700mA

Wavelength:365nm, 370nm, 380nm, 390nm, 400nm.etc

Pcb board size:D16mm or D20mm

Certification:ce, RoHS
Epileds UV LED 3W High Power LED,Epileds UV LED 3W High Power LED

The packing way of product 20mm PCB board with Tai wan chip High power 1-3W 365nm uv led:
Inner packing: by tray, 50pcs/tray,165g/tray.
Outer packing: by cartons